Lush Hens Night Party Limousine Hire In Melbourne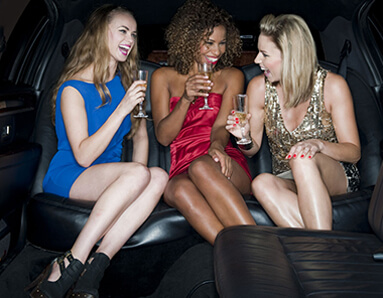 Make a grand entrance with your Hens party. Our limousine hire for Hens party will make sure you arrive in style. Sit back, relax and enjoy your special night in one of our chic limousines.
Wherever you decide to party in Melbourne, have Davine Limousines take you to your event in one of our stylish limousines. Get the girls together and enjoy a fabulous night out in one of our impressive limousines.
With so many Hens night limousine hire services available, make sure you get the luxury you and your friends deserve. Treat your Hens party to Davine Limousines luxury service.
Guaranteed Quality Hens Night Party Limousine Hire
Davine Limousines established itself in 2000. Since then our company has been renowned for providing excellent customer service.
Our friendly consultants will assist you with all your hens night party limousine hire needs. We'll find the perfect car and match you with a courteous and qualified chauffeur.
We ensure you arrive on time to your party destination. No trip is too complicated for our expert team. No matter where you want to go in Melbourne, our limousine drivers will accommodate your schedule.
Sophisticated Fleet Of Limousines Available In Melbourne
We have such a variety of cars available for your Hens party. We have a wide selection of vintage and modern limousines for your Hens party. Our vehicles come in variations of silver, white and black to match your group's attire.
Party in a stylish Chrysler or try out our exclusive Lincoln Super Stretch Town Cars. If you're after a specific car, we'll even help you find it. Celebrate your Hens night the right way with your dream car.
The celebrations don't stop once you get inside one of our elegant limousines. The interior features surround sound with Flat Screen TV/DVD and CD Player, bar facilities and bright strobe lights so you can keep the party going.
Limousine Hire For Hens Night Party Made Easy
Still looking for the one? It can be a hassle pinning down the right car. Have Davine take care of all your hens night limousine hire needs.
Having a luxury car for your upcoming Hens Night is easy. Have one of our friendly staff match you with the ultimate ride. Our services are available all over Melbourne. Get in touch today by calling 0411 639 297 or 9439 3353 or email ronmicallef@hotmail.com.
Chat to one of our friendly staff today. We're available for general inquiries, quotes, customised itineraries and more. Our professional hens night party limousine hire will make sure you have an unforgettable night in one of our lux limousines.